Ukraine Crisis Monitoring: Analysis of Food Crisis Risks and Policy Responsiveness
The crisis in Ukraine threatens global food security at a time when global food markets are already struggling with soaring prices, supply-chain disruptions, and a bumpy recovery from the pandemic. Ukraine and the Russian Federation account for more than 30% of global wheat exports, provide around 12 percent of the globally traded supply of food energy in kilo calories, and are breadbaskets to many food import-dependent developing countries in the Middle East, South Asia, and sub-Saharan Africa. Moreover, Russia is a major producer of fertilizer. Any serious disruption of production and exports from these suppliers will drive up prices further and erode food security for millions of people. If governments respond with export restrictions in an effort to keep domestic food prices in check, the impact on food security will be even higher.
In this context, monitoring the impact of the crisis on food security is key. To that end, this page provides several tools to monitor the situation. Here you can monitor production and stocks, track food export restrictions, check food price volatility, and access resources such as the AMIS Market Monitor.
The AMIS Market Monitor March 2023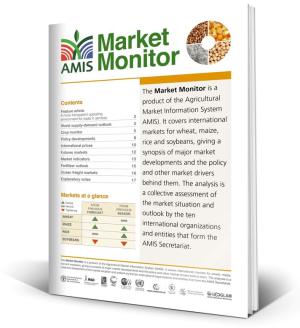 With no end in sight to the war in Ukraine and threats of further escalation, uncertainty continues to hang over agricultural markets. Supplies are tight. Reduced plantings in Ukraine mean that other countries will need to produce additional grains and oilseeds to help rebuild global stocks and moderate price levels. The world has so far been relatively fortunate: a combination of good weather and strong producer supply response has kept market prices from rebounding back to the high levels of early 2022. However, tight stocks will mean increased price volatility, particularly during periods of uncertainty such as planting times and the Northern Hemisphere growing seasons. In addition, uncertainty over events like the renewal of the Black Sea Grain Initiative will continue to roil markets.