The crisis in Ukraine threatens global food security at a time when global food markets are already struggling with soaring prices, supply-chain disruptions, and a bumpy recovery from the pandemic. Ukraine and the Russian Federation account for more than 30% of global wheat exports, provide around 12 percent of the globally traded supply of food energy in kilo calories, and are breadbaskets to many food import-dependent developing countries in the Middle East, South Asia, and sub-Saharan Africa. Moreover, Russia is a major producer of fertilizer. Any serious disruption of production and exports from these suppliers will drive up prices further and erode food security for millions of people. If governments respond with export restrictions in an effort to keep domestic food prices in check, the impact on food security will be even higher.
In this context, monitoring the impact of the crisis on food security is key. To that end, this page provides several tools to monitor the situation. Here you can monitor production and stocks, track food export restrictions, check food price volatility, and access resources such as the AMIS Market Monitor.
The AMIS Market Monitor August 2023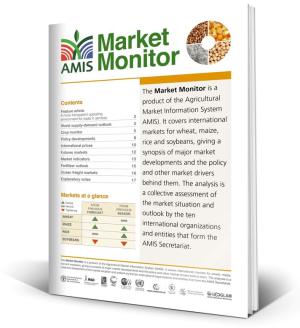 The war in Ukraine and India's export restrictions on rice have dominated commodity news in recent weeks. In late July, India announced a ban on non-Basmati rice exports and has since then imposed further restrictions on Basmati and parboiled rice exports. Those restrictions, combined with El Niño-related concerns over rice production in the region, have roiled rice markets, with Thai prices rising 20 percent since last month. Wheat prices are still under pressure from abundant Black Sea exports at competitive prices, but markets remain volatile as the termination of the Black Sea Grain Initiative and Russian attacks on Ukraine export facilities have heightened uncertainty. Global soybean and maize production prospects are improved this year with some stock rebuilding anticipated despite dryness in North America, Argentina and parts of Europe.