Ukraine Crisis Monitoring: Analysis of Food Crisis Risks and Policy Responsiveness
The crisis in Ukraine threatens global food security at a time when global food markets are already struggling with soaring prices, supply-chain disruptions, and a bumpy recovery from the pandemic. Ukraine and the Russian Federation account for more than 30% of global wheat exports, provide around 12 percent of the globally traded supply of food energy in kilo calories, and are breadbaskets to many food import-dependent developing countries in the Middle East, South Asia, and sub-Saharan Africa. Moreover, Russia is a major producer of fertilizer. Any serious disruption of production and exports from these suppliers will drive up prices further and erode food security for millions of people. If governments respond with export restrictions in an effort to keep domestic food prices in check, the impact on food security will be even higher.
In this context, monitoring the impact of the crisis on food security is key. To that end, this page provides several tools to monitor the situation. Here you can monitor production and stocks, track food export restrictions, check food price volatility, and access resources such as the AMIS Market Monitor.
The AMIS Market Monitor July 2022 (the 100th issue)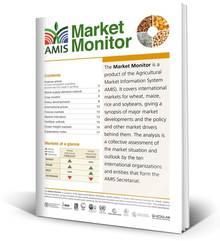 The wheat harvest is underway in the northern hemisphere, with hot and dry conditions impeding winter wheat yields in several major producing regions, which further confirm an expected decline in global wheat production in 2022. While maize production prospects improved this month, global maize output is also forecast to fall below last year's level. Against this background, and with exports from Ukraine still largely constrained, international wheat and maize markets are expected to stay tight. This means prices will remain volatile and continue to be highly sensitive to daily news on crop development, weather conditions and policy changes. By contrast, global rice production prospects appear strong despite high input prices while soybean output could hit a new record.