Ukraine Crisis Monitoring: Analysis of Food Crisis Risks and Policy Responsiveness
The crisis in Ukraine threatens global food security at a time when global food markets are already struggling with soaring prices, supply-chain disruptions, and a bumpy recovery from the pandemic. Ukraine and the Russian Federation account for more than 30% of global wheat exports, provide around 12 percent of the globally traded supply of food energy in kilo calories, and are breadbaskets to many food import-dependent developing countries in the Middle East, South Asia, and sub-Saharan Africa. Moreover, Russia is a major producer of fertilizer. Any serious disruption of production and exports from these suppliers will drive up prices further and erode food security for millions of people. If governments respond with export restrictions in an effort to keep domestic food prices in check, the impact on food security will be even higher.
In this context, monitoring the impact of the crisis on food security is key. To that end, this page provides several tools to monitor the situation. Here you can monitor production and stocks, track food export restrictions, check food price volatility, and access resources such as the AMIS Market Monitor.
The AMIS Market Monitor November 2022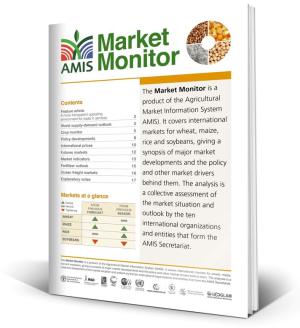 Concerns are mounting regarding the extension of the United Nations Black Sea Grain Initiative beyond the 18 November deadline, especially after Russia's recent - albeit temporary - withdrawal from the agreement. Through this initiative, Ukraine has been able to ship over 9 million tonnes of grains and oilseeds via its Black Sea ports. While the volume of exports remains below year-ago levels, importers benefitted from larger supplies, especially those who depend on Ukraine's agricultural products, while consumers worldwide have gained through lower market prices. Unfortunately, the pace of exports slowed in recent weeks as inspections could not keep up with the number of shipments; and now the possible termination of the deal threatens to re-ignite market prices and further exacerbate global food security concerns.