This section presents information-and decision-support tools to strengthen the ability of policymakers, food policy experts, and researchers to respond quickly to dynamic developments in the world food system.
Here you can find the latest information on current food crises through the Global Report on Food Crises, information from across Early Warning Systems, a control panel for real-time monitoring of food crisis risk factors, and the Excessive Food Price Variability tool where you can track daily updates in food price volatility.
Global Report on Food Crises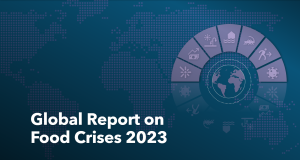 The Excessive Food Price Variability Early Warning System is a tool of the Food Security Portal that identifies periods of excessive price variability (i.e. price variability that exceeds a pre-established threshold), and it is updated on a daily basis to identify days that are within periods of high, moderate, and low price variability.
The Early Warning Hub brings together information from across Early Warning Systems in one place. Early Warning Systems (EWS) alert to the presence of food crises and related drivers, informing decision makers and saving lives.
The vulnerability analysis tool is designed to identify the exposure (vulnerability) of countries to shocks in global markets that may cause supply shortages or price surges in staple foods and key agricultural inputs (like fertilizers) which could erode food security in countries if they are highly dependent on imports of such commodities and/or lack the economic capacity to cushion their vulnerable population against the impacts of those shocks.