The COVID-19 pandemic has serious potential negative impacts on food security and nutrition, livelihoods and incomes, and poverty all over the world.
As part of its objective to contribute to better-informed policies to improve food security and nutrition and enhance resilience to shocks, the Food Security Portal is tracking the effects of the global pandemic on food prices, food security, and nutrition and is monitoring domestic and trade policy responses to COVID-19. This page brings together tools and resources, blog posts, and links to other COVID-19 pages for tracking and analyzing the potential impacts of the global pandemic.
Photo: World Bank
COVID-19 and global food security: Two years later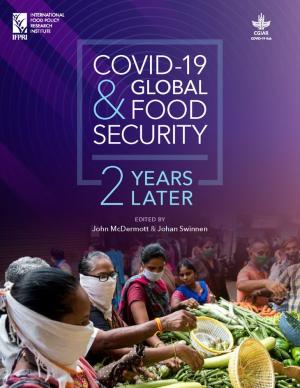 Two years after the onset of the COVID-19 pandemic, the health, economic, and social disruptions caused by this global crisis continue to evolve. The impacts of the pandemic are likely to endure for years to come, with poor, marginalized, and vulnerable groups the most affected.
In COVID-19 & Global Food Security: Two Years Later, the editors bring together contributions from new IFPRI research, blogs, and the CGIAR COVID-19 Hub to examine the pandemic's effects on poverty, food security, nutrition, and health around the world. This volume presents key lessons learned on food security and food system resilience in 2020 and 2021 and assesses the effectiveness of policy responses to the crisis. Looking forward, the authors consider how the pandemic experience can inform both recovery and longer-term efforts to build more resilient food systems.
The spread of COVID-19, as well as the wide range of policy responses enacted around the world to contain the pandemic, have exerted wide-ranging effects on agri-food systems and livelihoods.