Other media analysis tools
The IFPRI Food Security Media Analysis System was developed in collaboration with GATE group from the University of Sheffield to analyze media coverage of food security, food prices, and hunger. This powerful software combination uses sophisticated linguistic and semantic object network-mapping algorithms to analyze the relationships between key terms found in media articles that may influence commodity price volatility. The IFPRI Food Security Media Analysis System provides an intuitive interface designed to help users easily identify co-occurrences of relevant food security-related terms. Each day, the global food- and commodity-related news articles are loaded into the Food Security Media Analysis System. GATE then updates the news article database and mines the complete corpus to generate up-to-date media daily analysis of factors that may influence global commodity price volatility and food security.
How does the tool work? For example, in the interface below, you can type "maize" in the first search box and "drought, pest" in the second search box.
By clicking the "search" button, you will see the distribution of the number of articles that have co-occurrence of the "maize-drought" pair vs the "maize-pest" pair by month. 
Food Security Media Analysis Knowledgebase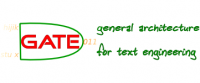 GATE is over 15 years old and is in active use for all types of computational task involving human language. GATE excels at text analysis of all shapes and sizes. From large corporations to small startups, from €multi-million research consortia to undergraduate projects, our user community is the largest and most diverse of any system of this type, and is spread across all but one of the continents